Office Furniture in White Plains, NY
Premium Commercial Office Furniture in White Plains, NY
Phone

914-350-5547

Hours

Monday-Friday 9-5pm or anytime by appointment.
Premium Commercial Office Furniture in White Plains, NY
Create Your Perfect Workspace With Our High-quality Office Furniture for Sale in White Plains, NY.
The right workspace can enhance creativity, productivity, and profitability. That's why we're passionate about providing businesses in White Plains, NY, high-quality office furniture that meets their unique needs.

If you're searching for "office furniture near me" or "office furniture for sale," you've come to the right place because our office furniture store is here to serve you. We offer various office furniture, including home office furniture, office desk furniture, executive office furniture, and more.
About Us
We're not just furniture experts but your partners in creating the ideal workspace. With over 50 years of experience, we've built lasting relationships with top furniture manufacturers such as Herman Miller, SitOnIt, OFS, Geiger, and Bernhardt.

Our wide range of high-quality furniture includes desks, seating, storage, tables, and more. Plus, our team stays current with the latest advancements, trends, and embedded technology in furniture to guarantee that you receive the finest products tailored to your requirements and budget.
We Believe in the Power of Partnerships
We believe that partnerships are essential to achieving the perfect workspace in White Plains, NY. That's why we listen to our client's needs with care and respect and guide them through every step of the process.
We're a Certified Herman Miller Dealer
As a proud member of Herman Miller's Certified Dealer Network, we're committed to providing consistent, high-quality service to help our clients create the spaces they need to achieve their business goals.
Our commercial office furniture company in White Plains, NY, is committed to creating a workplace that brings out the best in your culture and meets your people's needs and dreams. Partner with us today and experience the power of a perfect workspace.
Find the Perfect Office Furniture for Your White Plains Workspace
Whether you need a single chair or an entire floor of workstations in White Plains, NY, we've got you covered with a smart solution that aligns perfectly with your needs, budget, and lead time.
Storage Options
Are you tired of a cluttered workspace and looking for some storage solutions? Look no further! We offer various storage options in White Plains, NY, to fit your needs and preferences.
Here are some storage categories that we offer:
Carts
Do you need to move your supplies and equipment between different workstations? Our mobile storage units are perfect for you! These carts are easy to move around and provide ample space for your belongings.
Credenza
Are you an executive who wants a freestanding storage unit to store files and other essential items? Look no further! Our credenzas are perfect for your office and boardrooms.
Filing
Do you need secure and organized spaces for essential documents? Our vertical and lateral filing cabinets are perfect for you. They provide the ideal place to keep all your important files in one place.
Freestanding
Our storage units are perfect for individual workstations and shared storage areas. We offer different sizes and configurations to fit your needs.
Lockers
Do your employees need lockers to store their personal belongings? We offer lockers of varying sizes to suit your needs.
Modular
Our modular storage units offer flexibility and are often used in collaborative workspaces to create unique storage solutions.
General Storage
Our general storage options, including bookcases, shelving units, and cabinets, are designed to provide you with ample storage space while still looking professional.
Choose from one of our modern office furniture and give your office the storage space it needs. With our selection of high-quality storage solutions, you can keep your workspace in White Plains, NY, organized and productive.

Seating Options
If you're looking for the comfiest chairs for your office, we've got you covered! We offer a range of seating options in White Plains, NY, that suit everyone's preferences and needs.
Check out our seating categories to find the perfect fit for your office:
Classroom seating
Our classroom chairs are perfect for those of you who are educators or students! They are durable, stackable, and easy to move around.
Light task chairs
Our light task chairs are the best fit for workstations that require frequent movement. They are designed to provide flexibility and comfort throughout the workday.
Sleepers
Do you need a chair that also doubles as a bed for your small apartment or guest room? Look no further, our sleepers are perfect for you!
Stools
If you have to sit for long periods, you need stools that perfectly balance style and comfort. We offer stools of varying styles and make, including wood, metal, and plastic.
Lounge seating
We've got the coziest lounge seats that let your guests and employees unwind. These seating options are ideal for break rooms, waiting areas, and other spaces where your clients or employees can relax.
Stacking chairs
Do you have limited space in your office? Our stacking chairs can help you with that. You can easily stack and store them after use.
Side chairs
Our side chairs are perfect for conference rooms, reception desks, and other spaces where guests or clients must be seated. We offer side chairs of varying material options, including leather, fabric, and mesh.
Outdoor seating
Our outdoor seating options make your outdoor spaces more welcoming. We offer chairs, benches, and lounges perfect for outdoor office use.
Office chairs
Our office chairs are a must-have for every office! We have various options to maximize your health and productivity in the workplace, including popular options like Herman Miller Aeron chairs and many more.
Benches
Nobody wants to wait in an uncomfortable position. Our benches are perfect for waiting areas, reception areas, and similar spaces.
Tables
If you want to upgrade your office furniture in White Plains, NY, you might be interested in Herman Miller chairs, reception desks, and executive office desk furniture. However, don't forget the importance of tables in your workspace!
Check out our different categories:
Training tables
These tables are great for educational settings and training sessions. They're lightweight and easy to move around, so you can set them up wherever needed.
Occasional tables
Need a versatile table that can handle different needs? Our occasional tables are perfect for break rooms, waiting areas, and other similar places.
Dining tables
Office cafeterias are important places where employees can gather to eat and socialize. Our dining tables are designed with this in mind.
Sit-to-stand tables
Encourage good posture and reduce the risk of work-related injuries with our sit-to-stand tables. Your employees can adjust to different heights to accommodate their work styles and preferences.
Outdoor tables
Don't forget about your outdoor spaces! Our weather-resistant tables are perfect for patios, decks, and gardens.
Conference tables
When it comes to executive office furniture, conference tables are a must-have. They're perfect for boardrooms and conference rooms.
Our office furniture stores in White Plains, NY know that every office is unique. So we offer modern office furniture that is designed to be both functional and stylish, for a productive and attractive workspace.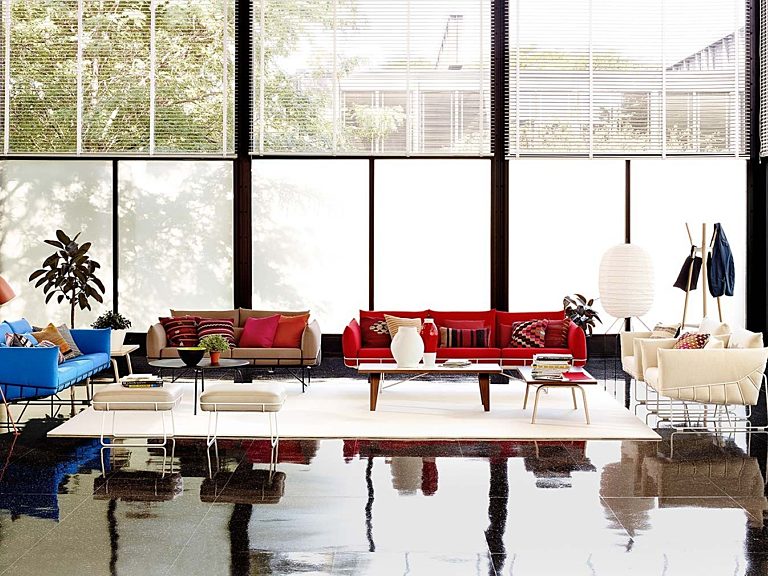 Desks and Workspaces
Regarding workspace furniture in White Plains, NY, there's no denying that the Herman Miller chair is a top choice. But a good desk is also essential! Office desk furniture is essential in creating a workspace that promotes productivity and functionality.
Private office
If you're a higher-up who requires a separate executive office furniture to work and conduct meetings, our executive office desks are perfect for you. Pair them with a Herman Miller Aeron chair for ultimate comfort and style.
Desks
Our desk options come in various shapes, sizes, and styles. Whether you need an L-shaped desk, a U-shaped desk, or a corner desk, we've got you covered. These desks are designed to provide ample workspace and storage options while maintaining a modern and professional look.
Workstations
Open-plan offices require unique furniture, and our workstations are designed with that in mind. They're perfect for collaborative workspaces and can be configured to meet your office's needs.
Collaborative furniture
If you need furniture for shared spaces like break rooms or waiting areas, we've got you covered. Our collaborative furniture is designed to promote collaboration and productivity.
Sit-to-stand
Sitting all day isn't good for your health, which is why our sit-to-stand desks are so popular. They promote good posture and productivity, so your employees can work comfortably and efficiently.
Our office furniture company offers contemporary office furniture for your workspace in White Plains, NY, including executive office desks and reception desks. We also have Herman Miller chairs, specifically the Herman Miller Aeron chair, which is known for its comfort and ergonomic design.
Educational
If you're looking for office furniture near me, look no further. Our selection of educational and commercial office furniture in White Plains, NY, is sure to have something that fits your needs and budget.
Here are some of our options:
Cafeteria
We offer dining tables, chairs, and benches to ensure that students and staff have a comfortable place to eat.
Classroom desk
Our desks come in different shapes and sizes to cater to different preferences and needs. They are designed to provide a comfortable and functional workspace for students and teachers.
Classroom accessories
We offer accessories to enhance the learning experience and promote communication between students and teachers.
Residence hall furniture
Our furniture options include beds, desks, and wardrobes to provide students with a comfortable and functional living space.
Lecture hall
We offer quality auditorium seating to provide a comfortable and functional space for lectures and presentations.
Library
Our furniture options are designed to provide a quiet and comfortable space for students to study and research.
Lounge
Our lounge furniture options are designed to provide a welcoming and relaxing space for students and faculty members.
We understand that office furniture is an essential component of any educational environment, and that's why we're committed to providing high-quality, functional, and comfortable furniture options for students and faculty members. So, why not check out our office furniture for sale and see what we offer?

Clinical Furniture
Looking for clinical office furniture for sale? We've got covered!Whether you're running a hospital or a small clinic, you need furniture that is functional and comfortable for your patients and staff. That's where we come in.
Check out our categories!
Patient Chairs
Our chairs are designed to provide your patients with the ultimate comfort while waiting for their appointments.
Recliners
Our recliners are perfect for patients who need to sit longer, whether undergoing treatments or waiting for a procedure.
Sleepers
These chairs are versatile and can be used as seating during the day and transformed into beds at night, perfect for overnight stays in medical facilities.
Bariatric chairs
Our chairs are designed to support patients requiring extra weight capacity, ideal for use in bariatric, intensive care, and other medical facilities.
Mobile tables
Our tables are perfect for medical professionals who need a functional and convenient workspace that can quickly move around the room.
Physician stool
Our stools provide comfortable seating for medical professionals during examinations and treatments.
Patient ottoman
Our ottomans provide comfortable seating and support for patients during examinations and treatments.
Carts
Our carts provide a secure and convenient place to store medical supplies and equipment.
Systems
Our clinical furniture systems are designed to provide a comprehensive solution for medical facilities, including seating, tables, and carts.
Healthcare
If you're in the healthcare industry in White Plains, NY, having the right furniture is essential to providing high-quality patient care. That's why we offer a range of healthcare furniture to meet all of your needs, including the following:
Waiting Area Seating
We have a variety of chairs, sofas, and benches designed to provide your patients and their families with a comfortable seating while they wait for appointments or procedures.
Waiting Area Tables
Our tables come in different sizes and materials and are designed to provide a convenient surface for patients and their families to read or place their belongings.
Healthcare Carts and Storage
Our carts and storage options provide a convenient and secure place to store medical supplies and equipment.
Healthcare Seating
We offer chairs, stools, and recliners to provide comfortable and functional seating for medical professionals.
Nurses Station
Our furniture provides medical professionals with a functional and efficient workspace.
Healthcare Tables
We have tables of different sizes and materials designed to provide medical professionals with a functional and convenient workspace.
Healthcare Technology Support
Our options are designed to facilitate the use of technology in healthcare environments.
Healthcare Casework
We offer a comprehensive solution for storage and organization in healthcare environments, including cabinets, drawers, and other storage solutions.
Our healthcare furniture is designed to enhance the functionality and aesthetics of your healthcare facility. With our furniture, you can provide a comfortable and functional space for your patients and staff in White Plains, NY, to ensure the best possible outcomes.
Space Division
If you want to maximize your office space in White Plains, NY, dividing it up can be a great solution. At our office furniture store, we have a range of space division options to choose from to help you create a functional and private environment.
Wall Dividers
Our wall dividers are designed to be flexible and customizable for dividing larger spaces. They're a great way to create separate work areas without losing the open feel of your office.
Freestanding booths
These booths offer a private and comfortable space for meetings, phone calls, and work sessions. They're great for employees who need a quiet space to focus.
Room dividers
Our room dividers are a quick and easy solution for dividing open spaces. They come in various styles and sizes to fit your specific needs.
Phone booths and office pods
Our phone booths and office pods are the perfect solution for those who need a soundproof environment for phone calls and work sessions. They're designed to provide privacy without sacrificing style.
Privacy screens
Our privacy screens are a cost-effective and easy-to-install option for dividing workspaces. They're an excellent choice for those who want extra privacy without investing in more permanent solutions.
You can check out all of our space division options in person by visiting our showrooms. Our goal is to help you create a workspace that meets your unique needs while also providing functionality and comfort.
Essential Accessories
If you need office furniture in White Plains, NY, , we have everything from Herman Miller chairs to reception desks to executive office desks. But we don't just stop at furniture! We also offer various accessories to enhance your workspace.
Recreational
Break up the monotony of the workday with shuffleboards and table tennis. Giving your employees a chance to unwind can boost their mood and productivity.
Lighting
Proper lighting can make a huge difference in your workspace. We offer desk, floor, and overhead lighting options to suit your needs.
Power Access
Make it easy for employees to charge their devices and stay connected with our power access products.
Technology Support
Keep employees comfortable and efficient with monitor arms, keyboard trays, and cable management systems.
Decor
Spruce up your workspace with decor accessories that make it more welcoming and professional.
Desk Accessories
Help employees stay organized and focused with desk organizers, pencil holders, and paper trays for office desks.
We're more than just an office furniture store. Our accessories are designed to meet your office's specific needs, so you can create a workspace that works for you. Whether you're looking for modern commercial office furniture or home office furniture, we have the accessories to make your workspace more functional and productive.
Who We Serve
Corporate
Creating the ultimate workspace in White Plains, NY, isn't a one-person job. That's why we believe in the power of partnership. We're not just a high-performance dealer but your dedicated partner in achieving your workplace goals. Our personalized service ensures that we're always there to support your team and respond to your needs, no matter what it takes.
Small to Medium Business
As a medium-sized business owner, you're an expert in your field. But when it comes to creating the perfect workspace, you need a partner who's an expert in theirs. We understand the challenges that come with the change in the work environment and are here to help.
Healthcare
Our company has over 25 years of experience creating comfortable, safe, clean healthcare workspaces in White Plains, NY. Our expertise includes safe seating options and wall-mounted cabinets for the efficient and secure organization of supplies, minimizing bacteria, and making cleaning a breeze. Our furniture solutions balance functionality with healing, ensuring both patients and employees feel comfortable and safe. Trust us to be your healthcare workspace partner.
Education
Our company offers research-driven design and personalized service to create engaging classrooms for student success. Our tailored solutions align with your budget and timeline to provide a true education partnership. Experience the power of collaboration and learning today.
Architects and Designers
As your dedicated resource and partner, we work closely with architects and designers to bring your vision to life. With our attention to detail and personalized service, we handle the logistics, allowing you and your team to focus on design and creativity. Trust us to seamlessly bring your projects to fruition.
Project Managers
Our experienced team understands the importance of getting complex jobs done well and right. As your dedicated resource and partner, we bring deep expertise to every aspect of project management, anticipating and solving problems to keep your projects on track. Trust us to stand with you every step of the way, guiding your project to success.
Real Estate Brokers
Trust our commercial office furniture company as your ally for all your real estate workspace needs in White Plains, NY. We understand the importance of a seamless transition, and with our expertise and attention to detail, we'll handle the logistics from start to finish. Count on us to be your knowledgeable resource and partner, allowing you to focus on your priorities while we take care of the details.

Why Choose Us: The Best Commercial Office Furniture Near Me
When it comes to commercial office furniture in White Plains, NY, you want the best. Our office furniture store has got you covered, and here's why you should choose us:
Expertise You Can Trust

Our team of experts has years of experience in the industry, providing you with professional advice and guidance that you can trust. We stay up-to-date with the latest trends to provide practical solutions tailored to your needs.
Customize Commercial Office Furniture
We understand that every workspace is unique, which is why we don't believe in a one-size-fits-all approach. Our team takes the time to understand your specific needs and preferences, providing you with customized recommendations to create the perfect workspace for you. Trust us to provide tailored solutions that meet your unique requirements.
Competitive Pricing You'll Love
Invest in contemporary office furniture without breaking the bank. High-quality furniture doesn't have to cost a fortune. We offer affordable products without sacrificing quality, providing you with the best value for your investment. Our furniture is built to last, ensuring you get the most out of your purchase.
Exceptional Customer Service
We prioritize exceptional customer service, with a team of experts committed to helping you find the perfect furniture for your workspace in White Plains, NY. We pride ourselves on providing the best service and support possible to ensure a positive experience.
Space Planning & Design
Our space planning and design services offer a comprehensive solution for your workspace. We help you define the scope of your project and stay within your budget. Our technical support staff is well-versed in the specification of various manufacturers, from verifying existing floor plans to coordinating fabric and finish selections. We provide support for telecommunications and electrical capabilities, lighting, acoustics, and application of COM materials, ensuring every detail is taken care of. Our team also updates CAD drawings and specifications to incorporate change orders, providing an accurate final outline of your new space in White Plains, NY.
Convenient Delivery and Installation
Our convenient delivery and installation services make getting new office furniture a breeze. We work with you to schedule the best time for delivery and installation, ensuring a quick and efficient process. Enjoy your new workspace in no time!
Quickship Options
We offer Quickship options to deliver your furniture faster, with stocked high-quality furniture options ready to go. We understand the importance of a comfortable workspace, so we provide fast and reliable shipping to get your furniture to you as quickly as possible. Enjoy your new workspace without waiting weeks or months for delivery.
Move Management
We offer commercial move-management services that minimize business disruption. Our seven-phase process anticipates possible complications, and our fleet of trucks and trailers equipped with specialized equipment ensures your valuable furnishings are transported safely. We handle every detail, from designing bid specifications to managing movers, so you can have a smooth and organized move.
Asset Inventory Management
We are your partner for asset inventory management. Whether you need to store extra furnishings or track leftover parts and pieces, our 24-hour secured warehousing facility can help. We use a database with digital photos to track your inventory, including refinishing, reupholstering, and refurbishing as needed. You can trust us to record all activities and ensure your assets are well-maintained.
Upgrade Your Workspace with Superior Office Furniture in White Plains, NY- Contact Us Today!
Upgrade your workspace with our high-quality products, designed to make your workday more comfortable and productive. Our extensive selection of office furniture includes everything from sleek ergonomic chairs to stylish reception desks. We take pride in offering products that meet our customers' unique needs and preferences, and our commitment to quality, expertise and exceptional customer service sets us apart.

Browse our collection today and experience the difference that quality office furniture can make. Contact us for more information or to schedule a visit to our showroom in Stamford, CT. Our team of experts is always available to help you find the perfect furniture for your workspace in White Plains, NY. Take the first step towards a more comfortable and productive workspace today with us!